"Thank you for taking the time to visit our website. I trust you will find it useful and helpful. Please add our website to your "favorites" and refer us to your friends." - Bill West, Founder
Headquartered in North San Diego County, AMIS is one of the major providers for niche markets such as Private Investigators, Insurance Adjusters, Security Guards, Armored Cars, Alarm Companies, Fire Suppression Contractors, Glaziers, Charter Schools, Churches, and other Non-Profit Organizations throughout the United States. We offer excellent coverage coupled with competitive prices, and our programs are widely recognized for fair, timely customer service and claims service. The philosophy upon which AMIS was founded in 1987 is still the benchmark of our success: "Big Enough to Serve and Small Enough to Care".
Since the inception of our agencies, our primary endeavor has been to furnish clients with the coverage they desire and have requested. Our staff is ready to assist you.
We are continually refining our coverage in Commercial Lines for businesses, niche markets, commercial auto and umbrella insurance. More than ever before, it's important that you, the consumer, be represented by an agency that works to earn your business and endeavors to provide you with the coverage you have requested.
By selecting AMIS, you choose an agency that has been in the insurance industry since 1965. Acting as an independent insurance agent or insurance broker, we are able to offer you excellent service and competitive prices from admitted and non-admitted insurance companies, because in most cases we can access insurance coverage from more than one insurance company.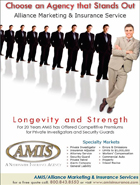 Selling insurance is our business. Our agencies have the ability to obtain policies from a variety of competing insurers. However, we have made a business decision to submit most or all applications for personal lines, commercial lines, workers' compensation, liability, professional liability, directors and officers, employment practices liability, property and other insurance to the companies that we believe have products that are most suitable for the insurance needs you have communicated to us. Please remember, however, that you are ultimately responsible for determining which insurance company you want to underwrite your policy, what coverages you need for your protection, the amount of insurance you need, and other issues. Under California law, insurance broker-agents are not generally held to be responsible for determining the amount of insurance a consumer needs, or even the types of insurance a consumer needs.
You are a highly valued customer, and our agencies take pride in the service we provide to you. In most cases, our agencies are paid a commission, which is fixed or based on a percentage of the premium that you pay for your policy. On Surplus Lines policies we can elect to add a reasonable broker fee in most states. The broker fee will be disclosed on your quotation.
Thank you for trusting our agencies with your insurance needs. We understand the vital role that insurance plays in providing you with financial security and peace of mind. Our agencies are grateful to have you as a customer, and welcome any suggestions you have to assist us in serving you better. We appreciate your business.
---
The prices charged by essay writing services vary from company to company. It is important to choose one that is within your budget. However, you should also consider the quality of customer care offered by the
essay writer service
. Often, essay writing services will have a minimum charge and a maximum price. You should always compare prices before choosing a service.
Secondly, consider whether you can afford to
hire an essay writer
. Essay writing can be a long process. An essay writer has to do thorough research on the topic to make sure that they fully understand the subject matter. They'll also have to curate and structure the essay. In addition to this, they'll also need a deadline to meet.
A reliable research
paper writers
will be able to provide you with a complete reference list. The writers also ensure that all resources are properly cited. Their work is thoroughly checked for plagiarism. This ensures that you'll receive a high-quality paper at an affordable price. It's also important to make sure that your writer is certified by the appropriate referencing system.
If you are looking for
someone to write my paper
, you are probably wondering what your options are. While some writers charge outrageous prices, others charge reasonable rates for work of high quality. The key to finding a writer who fits within your budget is to check their credentials. Make sure they have a good reputation and ask to see examples of their previous work before you decide to hire them.
CNA Financial
Corporation


CoverX Specialty
(a Crum & Forster/Fairfax
Financial Company)

First Mercury Insurance Co
(a Crum & Forster/Fairfax
Financial Company)

Great American
Insurance Group


Foremost
Insurance Group


Guide One
Insurance


Oregon Mutual
Insurance Corp.


Progressive Insurance
Company


The Hartford Financial
Services Group, Inc.


Zurich
in North America